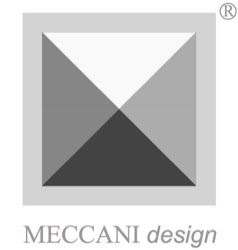 Totem Lamps Collection

Totem is a collection of 18 solid wood and ceramic lamps.
The lamps, in cherry, oak and decorated white ceramic, have various shapes and heights, small and large up to totems ... remembering Ettore Sottsass.
Each lamp is numbered and signed by the author; each is a unique piece made by hand.
The pottery is hand made on the lathe, the wood in some cases sculpted.
Meccani - Italian Design since the 1950s
The coffee table by Ferdinando Meccani

A collection of coffee tables designed from the 1960s
Design and Art by Mascia Meccani 2019/2020

Unique works made and decorated by hand with mixed techniques, sand, stucco, stones and non-toxic paints.
Carved Wood by Pietro Meccani

Artistic wooden products made and carved by hand.
Calafuria Collection by Mascia Meccani

Artistic terracotta vases made and decorated by hand with mixed technique. Carved oak base. Unique pieces
Saturn series by Mascia Meccani

Small artistic tables made with a terracotta base turned and decorated by hand with mixed technique and hand-decorated wooden top. Unique pieces
Libeccio Due by Pietro Meccani

Artistic object made by hand. Wood and non toxic water-based paint. Sculpted by hand.
Terracotta and wood

Unique handmade pieces
Future Antique Gallery

The Gallery features twentieth century and contemporary design and modern and contemporary art.

Unique works by authors such as: Ettore Sottsass, Mario Bellini, Paolo Portoghesi, Adolfo Natalini, Masao Noguchi, Lanfranco Benvenuti, Ferdinando Meccani, Michael Graves, etc.

The Gallery also features a collection of contemporary and modern works by italian artists ...

Future Antique Gallery is located in the historic center of the medieval village of Cascina (Pisa) Tuscany.

Cascina was an important furniture and furnishings center of Tuscany and Italy.